Chevrolet colorado true suspension lift kit 3? inches
Published: November 03 for
Daytona
Chevrolet
Colorado
true
SUSPENSION LIFT KIT
3? inches
GAIN REAL GROUND CLEARANCE / 3" FRONT + 3" BACK
DAYTONA-CPS
3" (= approx. 75mm) FRONT
+
3" (= approx. 75mm) REAR
COMBO SUSPENSION LIFT KIT
for Chevrolet
colorado
FITS ALL NEW Chevrolet Colorado- MODELS
FOR 2 DOORS SINGLE CAB, 2 DOORS OPEN CAB AND 4 DOOR DOUBLE CAB
Lifts your Chevrolet Colorado to allow for more ground clearance and bigger tires!
Our kits provide you with all the necessary
parts
to lift your truck! This is the best high quality lift kit for any truck enthusiast by using existing suspension components rather than cutting and welding costing you hundreds of dollars on top of the kit itself.
Pls. DO NOT CONFUSE OUR DAYTONA-CPS COMBO SUSPENSION LIFT KITS WITH CHEAP BODY LIFT KITS
Body lift kits only lift the body off the frame of a car and therefore offer no performance advantage other than tire clearance.
Body lifts kits lead to the following problems:
Ugly exposure of trailer hitches, ugly gaps between trucks frame and cab/bed, need to extend/adjust fuel filler hoses, steering column, engine cooling fan air guiding parts, etc.
Our DAYTONA-CPS suspension lift kit offers you clear performance advantages
by spacing down your vehicles factory suspension.
This way you will get:
- Enhanced looks
- Increased tire clearance
enabling you to mount lager wheels/tires
- Increased ground clearance
resulting in improved off-road capabilities
Contents of our DAYTONA-CPS COMBO SUSPENSION LIFT KIT:
- 2x coil spacers
CNC-manufactured ? for 3? front lift**
- 2x 3" Rear Lift Leveler blocks
manufactured from heavy duty S235JR construction steel with antirust coating
- 4x special prolonged leaf spring U-bolts
made from industrial grade carbon steel alloy
- All required nuts and fasteners
- Detailed English PDF Picture Diagram installation instructions .
** IMPORTANT NOTE: The lift / coil spacer thickness ratio is not 1:1. This means that the lift achieved lift height is much greater than the actual thickness of the coil spacers. The reason for this is that the lower control arm compounds the amount of lift due to its angle and length. Front 3" represents lift amount, NOT the spacer thickness. This lift kit is designed to give you an overall lift of up to approximately 3 inches (75mm) front / 3 inches (75mm back). This is the recommended maximum which you can lift your vehicle without affecting your vehicles driving characteristics in a negative way. An alignment is always recommended after altering the height of your vehicle. The rear lift requires that you add the blocks on the 4WD models and 2WD models . Installation should only be performed by trained professional
Our Daytona Full Lift Kits are precision engineered to lift and or level your truck. Our offerings include various size combinations for the front and rear so you can change or customize your truck to the required ride height. If there?s something you require, please message us and we?ll be happy to put an offer together for you!
Advertisement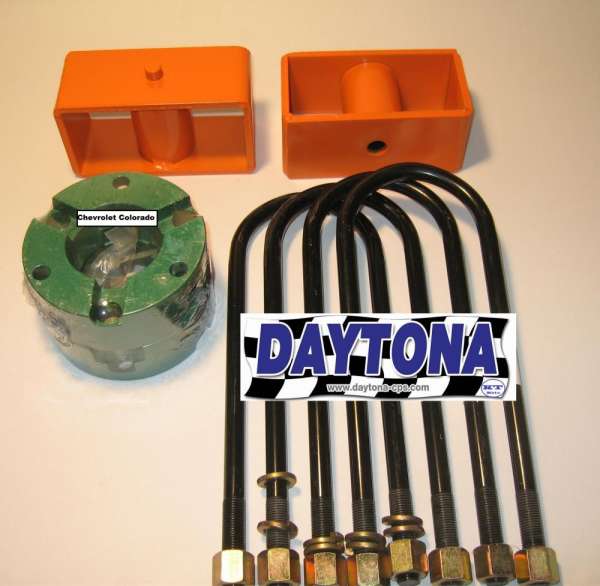 Chevrolet colorado true suspension lift kit 3? inches
Advertisement

Write review
Leave your comments on this ad
Offensive messages and spam will be removed
Related ads