Hair transplant treatment in india at low price, save $1500
Published: March 11 for
Anonymous
Hair
transplant is technique that transplants individual hair follicles from a part of the body to bald or balding part of the body. It is primarily used to treat male pattern baldness. In this minimally invasive procedure, grafts containing hair follicles that are genetically resistant to balding are transplanted to the bald scalp.
Studio 6 Lifestyle Clinic Pvt. Ltd is one of the trusted organizations in area which has best experience in providing hair
transplant
treatment Service. We are providing
treatment
at affordable price and provide best treatment
services
to our patients/clients by modern technology. Our experts first evaluate case of the patient and advice best solutions to our Patients. We have highly qualified experts in our company and they have strong point of views in both research and in clinical research. We have best experts for solving every type of queries of patient regarding treatment.
Our aim is to provide best treatment at affordable price so that every patient can take advantages from us to improve their lifestyle.
Hair Transplant can also be used to restore:
? Eyelashes
? Eyebrows
? Beard hair
? Chest hair
? Pubic hair
? To fill in scars caused by accidents or surgery such as face-lifts and previous hair transplants.
Generally used techniques for hair transplantation;
? FUE (FOLLICULAR UNIT EXTRACTION)
? FUT/STRIP METHOD
? DOFT
? STEM CELL
Normal results
The transplanted hair will fall out within a few weeks; however, new hair will start to grow in the graft sites within about three months. A normal rate of hair growth is about 0.25-0.5 in (6-13 mm) per month.
References
Dr. Vivek Verma (Senior Surgeon/ Plastic Surgeon) (Studio 6 Clinic)
Dr. Ajay Dadwal (Surgeon)
Cost/Price Benefits of having Hair Transplant in India (Studio6 Clinic, Chandigarh)
The procedure costs for hair transplant from $1500 to depending on the size of the area that?s being transplanted.
Initial Consultation Fees outside India:
$40 for Enrolled Patients
$80 for Casual Patients
Consultation Fees in India (Studio6 Clinic, Chandigarh):
No Charges for Enrolled Patients
No Charges for Casual Patients
FUE Hair Transplant starting Price outside India: $8 per Follicle
FUE Hair Transplant starting Price in India (Studio6 Clinic, Chandigarh): $ 0.70 (approx.) per Follicle
Visit Our Clinic Today for Free Consultation.
Address: Studio 6 Clinic, SCO 2419-2420, Second Floor, Sector 22-C, Chandigarh
Call Now for Booking: +91 9216509233, +911724606601, +911724606602, +911724606603
Website: www.studio6clinic.com
Skype: studio6clinic
Follow us on Twitter: www.twitter.com/studio6clinic
Follow us on Pinterest: www.pinterest.com/studio6clinic
Like us on Facebook for Daily Tips and Updates: www.facebook.com/studio6clinic
Write review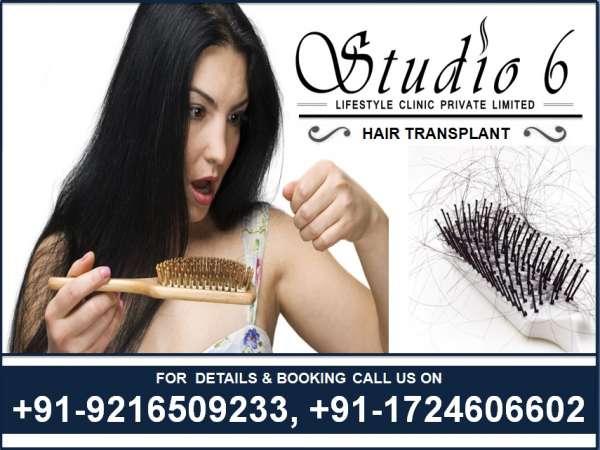 Hair transplant treatment in india at low price, save $1500
Write review
Leave your comments on this ad
Offensive messages and spam will be removed
Related ads